Enjoy 7 exquisite agave tastings and immerse yourself in the spirit of Mexico
Immerse Yourself In The Spirits of Mexico
Already know all about Tequila and want to explore the depth of Agave Spirits? Join us on a journey of discovery as we unveil the history of agave and the spirits within. You'll be greeted with a welcome cocktail as we dip into the agave world and the history behind these delightful Mexican flavors. Sip your way across Mexico and its enchanting agaves including: Tequila, Mezcal, Raicilla, Sotol and Bacanora.
DAYS:
Tuesday, Thursday and Friday
CAPACITY:
10 people
1 tour guide
WEATHER:
Tour takes place rain, or shine
WHAT TO WEAR:
Comfortable clothing and shoes
WHO:
All fitness levels and must be over 18
TOUR INCLUDES:
6 Agave tastings. 1 racilla cocktail, expert tour guide, tasting map with insiders recommendations
START LOCATION:
El Tasting Room
TRIP ADVISOR:
#1 Tour company in Puerto Vallarta with over 3600 reviews
What to expect from this experience?
More Than Tequila - Savor lesser known Agave Spirits as you taste your way through regions of Mexico and find out why their popularity is growing.
Educational – This is an immersive experience highlighting the history of each spirit and the states they are produced in. Bring home a unique perspective and knowledge of Mexico - the best kind of souvenir!
Fun Facts - You'll be set for trivia night as you learn fun facts like the answer to: which one of the Agave Spirits is not actually made from Agave?
Private Tasting Room - Enjoy a relaxing experience in Vallarta's premier craft cocktail bar featuring all Mexican spirits.
Trust - There are many tequila tastings in Vallarta to choose from, we know it can be hard to know who to pick. Vallarta Mexology has been showcasing the city for over 10 years, with a #1 rating on Trip Advisor. Know you are getting the best Vallarta has to offer.
Good things come in small packages - Enjoy the intimacy of a small group experience in a private tasting room!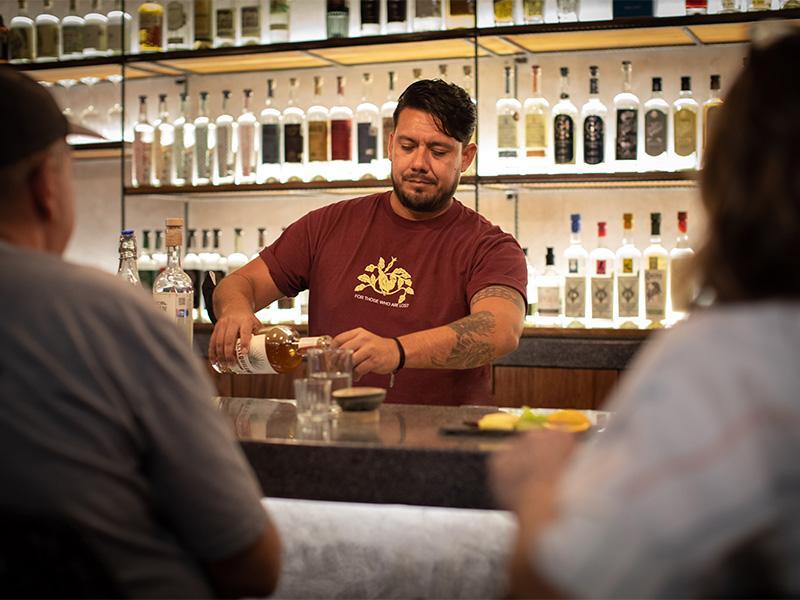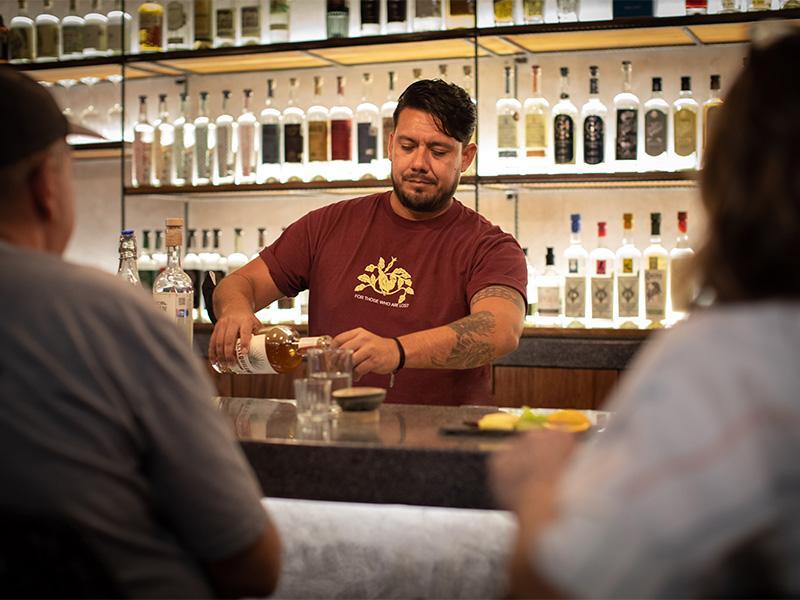 Why choose this experience?
Not Your Average Tequila Tasting. You won't walk more than a few blocks in Vallarta without being offered a Tequila tasting, but the goal of those tastings is to make a sale. Our goal is to educate you on the difference between a quality drink and a run of the mill creation.

A Range Of Flavors. It's too hard for us to pick just one which is why we introduce you to a range of flavors. 
The Best of Mexico. Our small group tastings introduce you to Mexican spirits you may not find anywhere else in a welcoming and educational atmosphere. 
STRESS FREE REFUND POLICY
Tour bookings are fully refunable up to 48 hurs before your tour date, and we can also swap you into a different tour if there's availability. A change of plans is no problem.
What our clients are saying
This was the best tour I have ever been on. The food was delicious and the drinks were amazing!!! Our guide Juri was the best!!! We will definitely take this tour and use this company again!!!! I would highly recommend this company for any type of local tours in Puerto Vallarta!!- Majafa from California
This is the second year in a row that we've taken this tour... Amanda is fantastic!

I highly recommend this tour. You will have great food and drinks and visit out of the way places you would probably just walk by if on your own. -Mary from Toronto
We ate, drank and laughed our way through the afternoon/evening. We visited places we never would have ventured in to otherwise. The only downside was it felt like ended way too soon!!! 🙂 We will be back in PV next April and we wouldn't hesitate to do another tour. Tara from Vancouver
Come to El Tasting Room, featuring a Mexican-only menu of Spirits, Artisanal Beers and Wines.